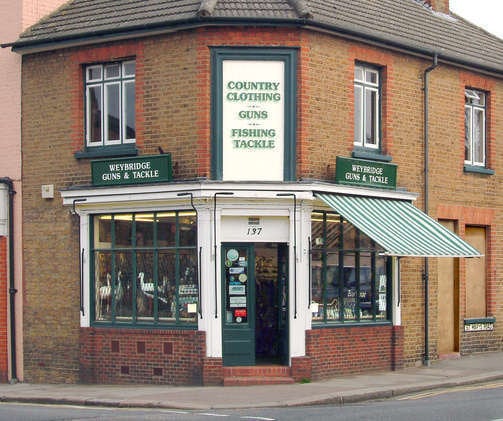 Thank you for visiting our site.
We are a small traditional Gun, Country Clothing & Fishing Tackle shop situated in Oatlands Village on the outskirts of Weybridge, Surrey.
We do not sell online, we feel that the goods we sell need to be handled before purchase, the buying experience being fully backed up with our advice, gleaned from over 47 years in the business.
Very sad news I'm afraid, my lovely wife & backbone of the shop, Mary, passed away peacefully on Sunday March the 4th.
(the funeral is on Tuesday April 3rd at St James' Church Weybridge at 11.30am, bright clothing please & no flowers, any donations to go to Sam Beare & Woking Hospice).
I will continue to run the shop with the limited opening times shown below and see how I cope, hopefully we will trade for some time yet.

Please keep coming in but do bear with me, stock is getting limited, but there are some bargains as I clear some stock lines, particularly clothing.
Opening Hours :- From Sept 1st 2017 we are open on Thurs, Fri & Sat only 10.30am to 5.00pm.

Ian Colclough
137 Oatlands Drive, Weybridge, Surrey, KT13 9LB. phone 01932 842675